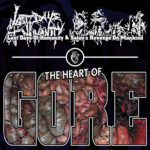 Released: 11. October 2017
Splatter Zombie Records SZR030
Tracklist:
The Stench Of Flatulating Bowel Incisions
01 Last Days Of Humanity – Fermented Gut Burst
02 Last Days Of Humanity – Excremental Mess Of Faecal Putrilage
03 Last Days Of Humanity – Erosed Intestinal Purulency
04 Last Days Of Humanity – A Grume Collection Of Body Parts
05 Last Days Of Humanity – Effective Impalement
06 Last Days Of Humanity – 138 Minute Body Disposal
07 Last Days Of Humanity – Vaginal Fungus On A Rotting Cock
Okkvlte Gorekvlt
08 Satan's Revenge On Mankind – Okkvlte
09 Satan's Revenge On Mankind – Gorekvlt
The Stench Of Flatulating Bowel Incisions
was recorded live ar "Vera" in Groningen, April 26, 2006
William – guitar, Bas – bass, Marc – drums and backing vox, Erwin – vox
Edited, mixed and mastered by Erwin.
Thanx to Satan's Revenge on Mankind and Splatter Zombie Records.
Last Days Of Humanity cover artwork by Luisma Haemorrhage.
Okkvlte Gorekvlt
was recorded at "Die Lobby" of the LobbyUnion, Hardabrunno im Friesenfeld during Twelvide 2016/17
Tomhet – harmonics, Genital Lecter – subharmonics, Theophobos von Goreblast – patterns and orations
All tunes composed, arranged and proposed by von Goreblast. Lyrics by von Goreblast. All tunes rejected by Tomhet. Agreed on by Satan's Revenge On Mankind.
Mixed and mastered by low.b Studios. Produced by Tomhet/von Goreblast.
Satan's Revenge on Mankind cover artwork "Omegoat" by Theophobos von Goreblast.