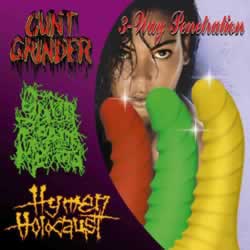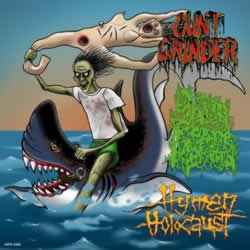 released: February 2007
Rotten Roll Rex RRR002
CDN Records CDN015
Tracklist:
01 Cuntgrinder – Holidays In Sodom (Intro)
02 Cuntgrinder – 3-Hole Mare Extreme Masturbator
03 Cuntgrinder – We Are The Gangbang Gang
04 Cuntgrinder – Raping Is Justice – Raping Is Law
05 Cuntgrinder – The Bunny And The Hunter
06 Cuntgrinder – Kill The Police (G.G.Allin-Cover)
07 Cuntgrinder – Women
08 Cuntgrinder – The Holidays Go On (Outro)
09 Satan's Revenge On Mankind – Suck Satan's Goat Cock (Harmagedon Death Fuck)
10 Satan's Revenge On Mankind – Gorebeat (Born To Eat)
11 Satan's Revenge On Mankind – Proud To Be A Perverted Cadaver Eater
12 Satan's Revenge On Mankind – Headfukked By The Bitchfork
13 Satan's Revenge On Mankind – Your Gore Is My Pleasure
14 Hymen Holocaust – Pimp My Hymen
15 Hymen Holocaust – Smegmatic
16 Hymen Holocaust – One Size Fi(s)ts It All
17 Hymen Holocaust – German Goo Girls
18 Hymen Holocaust – Drilled, Drenched And Defiled
19 Hymen Holocaust – Drunkholes
Our Part was recorded, engineered, produced and mixed in the fall of 2006 at "Die Lobby" of the Lobbyunion, Alberestat im Friesenfeld, Goremany.
All our gore mastered by Jaime E. "Papa" Gomez of D.A.M. at Orogone Audio Engineering, London, U.K.
All our Musick composted and all our lyrics written by The Almighty Mr. Goreblast.
All artworks done by Hippie of Cuntgrinder.