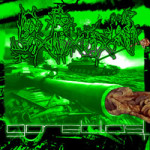 Released: 18. November 2006
Rotten Roll Rex RRR003
Tracklist:
01 Vatikandestruction
02 We Come To Eat You
03 Gorevolution
04 Hyperbrutal Splatter Satan
05 I Hate Music
06 Invoking The Glorious Sado-Nuclear Extermination Of The Christian Plague
07 Esto Es Real (Tu Carne)
08 Psycho Punch
09 Satan Rules
10 C.M.F.P (feat. Andrew of Manos on Lead-Vokills)
11 I Hate Nature
12 Meat Is Good Food
13 Goat Gut Gore Core
14 Jesus Loves You Because He Is Gay
15 Angels Taste Like Chicken
16 Body Juice Blues
17 I Hate Neo Grunge Pseudo Punk Hippie Brats
18 Belial's Finger Sticks In The Asshole Of The Pope
19 Fuck You!
20 I Vomit On The Altar And Shit In The Offertory Bag
21 Techno Junkie Massacre
22 Eat! Eat! Eat!
23 World War Gore
24 Infernal Christcorpse Hacking Butcher Command On Behalf Of The Great Eternal Master Of Hell's Purifying Fire
GOREBLAST was recorded from august 5th – october 16th 2005 at "Die Lobby" of the Lobbyunion, Alberestat im Friesenfeld, Goremany.
It was recorded, enineered and mixed by Satan's Revenge On Mankind themselfes and mastered by Jaime E. "Papa" Gomez of D.A.M. at Orogone Audio Engineering, London, U.K.
All Musick composted, all lyrics written and all artworks done by The Almighty Mr. Goreblastexcept "Esto Es Real" by Tu Carne.
Musick decomposed and deranged by SxRxOxM. Band photos taken by Katja Sieber.